Airway Clinic
The upper airway extends from the nose to the carina (lower end of trachea). Any compromise in this airway can result in breathing difficulty for the patient. Road traffic accidents are common in India. These can result in trauma to the airway. Also patients on prolonged intensive care management may get airway stenosis due to long standing intubation.
Airway stenosis may occur at the level of vocal cords (glottic), above the level of vocal cords (Supraglottic) and below the level of vocal cords (subglottic and tracheal). Many patients remain on tracheostomy for long durations. The airway clinic has been established to cater to all these groups of patients.
Various airway surgeries performed at this center
Tracheal Dilatation
It is the procedure to treat tracheal stenosis. Tracheal stenosis is a narrowing of the trachea that causes breathing problems. Laser-assisted tracheal dilatation helps to remove the scar tissue that is causing the stenosis and dilate the airway. This procedure offers good results and provides substantial relief to the patients.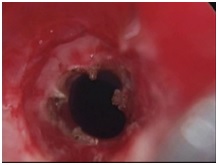 Suture Lateralization
Patients having early breathing difficulty since 2-3 months only with uncertain prognosis for recovery; for example, breathing difficultydue topost radiotherapy complications or laryngeal trauma leading to crico-arytenoid joint fixation, are best treated with suture lateralization.A part of the back of one vocal fold(Posterior 1/3rd) is stretched and fixed away from the opposite vocal fold. This procedure helps regain the normal breathing of the patient, without disturbing the voice quality.
Diode laser-assisted supra-glottoplasty
This procedure is done for the treatment of laryngomalacia. It is a congenital abnormality of the laryngeal cartilage resulting in collapse of the supra-glottic structures during breathing in, leading to airway obstruction. This is the most common cause of breathing difficulty found in newborn. The condition is self- recovering, but may be life threatening to few children. In such situation, diode laser-assisted supra-glottoplasty is the surgical treatment. In this procedure, the excessive floppy tissue of the voice box is trimmed in the operation room. This improves the breathing condition of the child.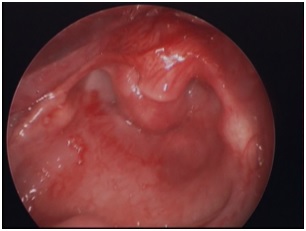 Tracheal Reconstruction
Tracheal or laryngeal stenosis, which cannot undergo airway dilatation or not improving after multiple dilatations are recommended for tracheal reconstruction. In this procedure, the stenotic segment is excised and the normal ends of the trachea are brought together. This may also need grafts insertion depending on the condition of the patient.